Burney Falls is the main attraction of Mc-Arthur Burney Falls Memorial State Park, in Burney, CA. This park is about 30 minutes drive North from
Manzanita Lake
in Lassen Volcanic National Park.
From Lassen Volcanic National Park, we moved North to Mt Shasta area, and between Lassen and Mt Shasta are the Subway Cave and Burney Falls.
Burney Falls from the top viewing point
Burney Falls can be viewed from the top look-out just like in the above picture, with no hiking at all. However, there is a short and easy trail that goes down to the base of the fall and around the falls, a total of 3.5 miles round trip with approximately 200 ft change in elevation.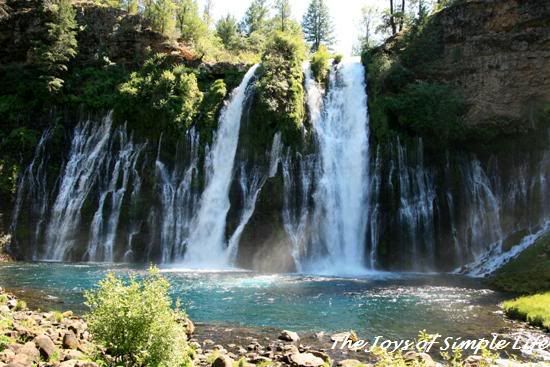 Burney Falls as Seen from the trail, near the base
Burney Falls is not the tallest nor the largest waterfall in California, but it is one of the most beautiful waterfalls I saw and definitely the most unique waterfall my eyes had set on. Unlike most waterfalls I saw which result from stream drop-off (where river flows over a large step in the rocks or rocky cliffs), Burney Falls is unique for me in such a way that it is a combination of stream drop-off and spring water emerging from the rocks.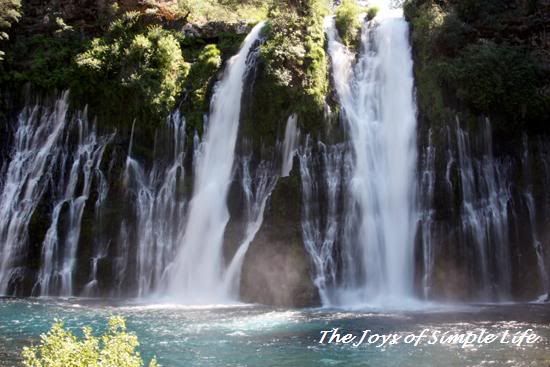 Burney Falls
If you take a close look in the above picture, aside from the stream that drops off from the top of the cliff, there are many more water that comes out from the face of the rocky cliff. In fact, even though the Burney Creek at the top runs dry most of the year, Burney Falls continuously flows at 100 million gallons per day, really a wonder! Most of the waterfalls I saw, if the river or creek runs dry or will have little water flowing, the waterfall also runs dry. But not this waterfall. Why? Because the major source of water here is spring water from underground.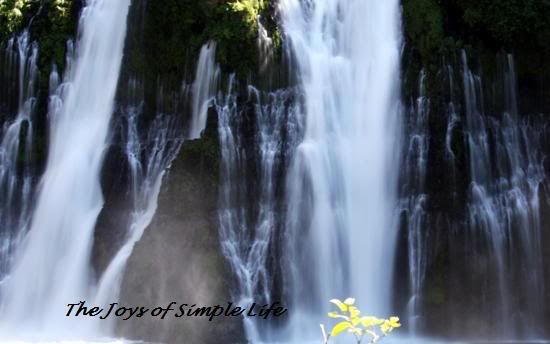 Spring Water Coming Out from Burney Falls
Burney Falls was established as a National Parks Natural Landmark in 1984 for its examples of river drainage regulated by stratigrapically-controlled in a waterfall formed by undercutting of horizontal rock layers. The late President Theodore Roosevelt described Burney Falls as the "8th Natural Wonder of the World".
Burney creek comes from underground springs, flows to Lake Britton, getting larger as it flows to the majestic falls. Volcanic action was the dominant force that shaped this landscape. Volcanism is evident not only in the nearby
Lassen
and Shasta peak, but also in this park. This region is surrounded by mountain peaks and is covered by black volcanic rock, or basalt. The layered and porous basalt retains snow melt and rain water, forming a large underground reservoir.
Water Coming Out from Porous Rocks
Water coming out from porous rocks can be seen not only from Burney Fall but also from the other side rocks, there are just a lot of them around the area.
The maximum height for the falling spring water here is 129 ft, its unique character and beauty worth visiting if you are in the Lassen and Shasta area.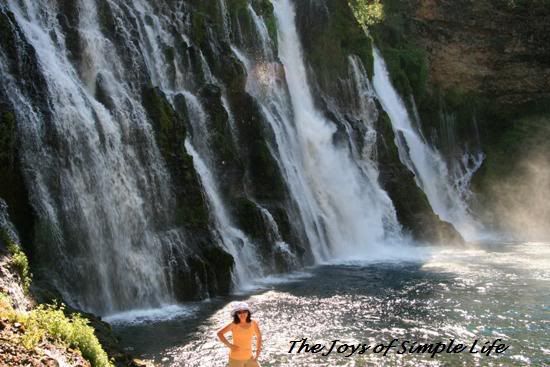 Me at the side of Burney Falls