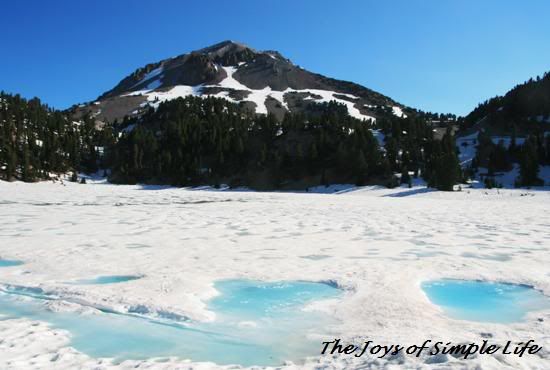 Frozen Lake Helen with Turquoise Melting Snow and Lassen Peak, early summer
After the steaming beauty of
Bumpass Hell
, and the beautiful and peaceful
Manzanita Lake
, another feature in Lassen Volcanic National Park is Lake Helen. Lake Helen is a glacial lake which is located to the South of the Lassen Peak and west of Bumpass Mountain in the Shasta Cascades region of Northern California. Because Lake Helen is at high elevation, at over 8000 ft, it is covered with snow for most of the year. Ice in this lake usually stays until July- August, and forms again October. The lake would probably look prettier when most of the water has melted, showing a deep blue color and reflections of the mountains. The deep blue color is due to the minerals present in it and its depth which reaches 110 ft.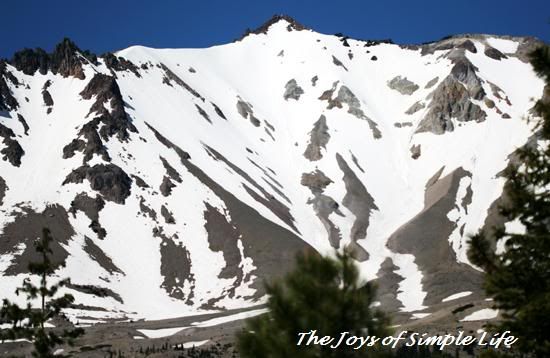 Face of Lassen Peak, early summer
The Lassen Peak in the background is the most dominant feature of the park and it is also the largest plug dome volcano in the world, which erupted in 1914. Lassen Volcanic is one of the few areas in the world where all four types of volcanoes ( cinder cone, plug dome, shield, and strato) can be found. But Lassen Volcanic National Park is not just about volcanoes, mudpots, hot spring, hissing fumaroles and other volcanic geology, the park also boasts a rich diversity of plant and animal life. The great biodiversity here is due to 2 factors: its geographic location and the abundance of its habitats. Lassen Volcanic lies at the crossroads of three great biological provinces: the Cascade range to the North, the Sierra Nevada Mountains to the South and the Great Basin Desert to the East.
Here are two more pictures of Lake Helen with the other mountains surrounding it.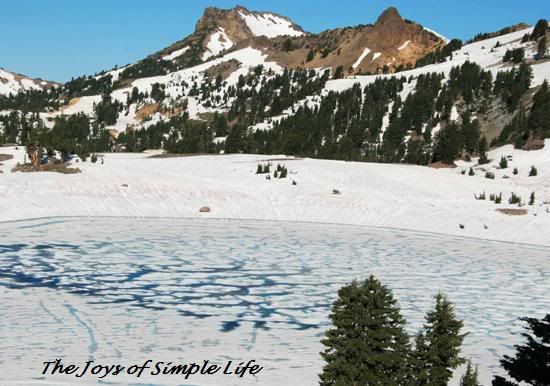 Lake Helen and Broke Off Mountain, early summer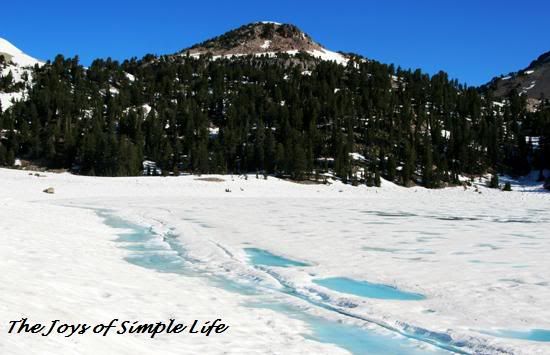 Turquoise Melted Snow @ Lake Helen, early summer