We recently bought Lifetime Membership for a lifetime pass at Torrey Pines State Natural Reserve. Is it worth it? I must say, it is!
Torrey Pines Cliffs from Flat Rock, San Diego, CA
( both pictures, top and bottom, were taken using the Panorama Feature in the new IOS application of iPhone)
Flat Rock from Torrey Pines Cliffs, San Diego, CA
So, what does Torrey Pines Lifetime Membership means to us?
First
, our Lifetime Pass at Torrey Pines encouraged us to do some home improvements. :) We told ourselves if we are going to live in San Diego forever, we should start enjoying it now by making our house the way we wanted it to be. If we wanted some home renovation, we might as well do it now, so we have longer time of enjoying those home renovation projects. One of these renovations we are thinking would require us to find
self storage
to temporarily store our stuff somewhere. We had thought of doing it one room at a time, but our experience before when we did floor change taught us that if there is a way to avoid the physical stress of having to move stuff several times around during the renovation process, we might as well choose the less-stressful option if it is not too expensive.
Second
, getting the Torrey Pines Lifetime Membership will save us money! In less than 3 years, we will get our money back!
That's Me, Jumping For Joy @ Torrey Pines State Reserve Beach
Let me backtrack a little bit how buying a Lifetime Membership Pass will save us money.
We used to have annual CA State Park Pass. However, when the price this year increased from $120 to $195 per year, we paused for a while before buying a new CA State Park Pass. Upon reviewing, we found out we mostly use our CA State Park pass for Torrey Pines State Natural Reserve, which is actually my favorite place in San Diego for a combination of both hiking and surfing/swimming.
CA Poppies mixed with other wildflowers, a sight to behold in spring
View of Torrey Pines from the top of the Cliffs
Several times, I have been asked by several friends if I ever get tired of Torrey Pines, and my answer is always the same, "no!" Living close enough to Torrey Pines add peace and inner contentment that I will always have a place to de-stress, relax and enjoy the healing power of both the ocean and hiking.
Guy Fleming Trail @ Torrey Pines State Reserve
Because we learned our use of CA State Park Pass is mostly only for Torrey Pines, we decided not to renew our CA State Park Pass this year because we feel like $195/year is already too expensive. We decided to just pay the occasional $15 for 7 consecutive days use of State Park pass whenever we are on vacation. Unlike National Park Pass, which cost only $80 per year and where we really use the pass in different National Parks each year because it covers all National Parks in the US, the CA state Park pass however is not only more expensive, but only limited to CA. Though CA is so rich with many beautiful State Parks, but our reality is, because of distance, we seldom access them. We probably go to other CA State Parks only one 7-day vacation a year, since the other vacations are to National Parks. And sometimes, these State Parks are shared by National Parks that we actually can use our National Park Pass to some State Parks such as when we went to Redwood State and National Park.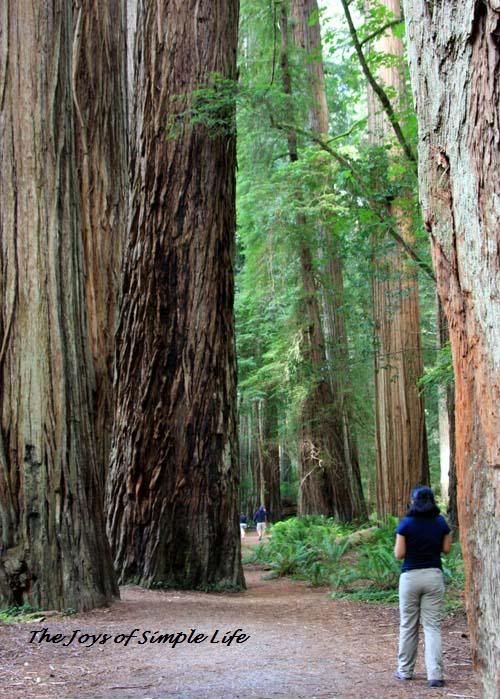 Dwarfed by Redwoods @ Redwood State and National Park, CA
Thankfully, we found out there is Torrey Pines Lifetime Membership which gives us lifetime pass to Torrey Pines State Natural Reserve, our most frequented State Park because it's the closest to home. The day use at the Reserve is $15, and considering we are here almost everyday in the summer for swimming and boogie boarding, the $500 lifetime pass would actually save us a lot of money. If we compare it with the day-use fee, we get our money back in one month and 4 days use! ( $15 x 34 days > $500 ). If we compare it with the CA State Park Pass ($195/year) which we had been using ever since ( we did not know about lifetime pass then and it was cheaper at $120 per year before), we get our money back in 2 years and 7 months.
Spring Wildflowers Carpeting Torrey Pines Slopes
So, what does a lifetime pass to Torrey Pines State Natural Reserve mean for us aside from tons of savings for we would no longer be buying State Park Pass each year?
Me and Hubby, having FUN @ Torrey Pines
Well, a lifetime of FUN! FOR SURE!