"We must go beyond textbooks, go out into the bypaths and untrodden depths of the wilderness and travel and explore and tell the world the glories of our journey." – John Hope Franklin
Traveling enriches us in many ways. It enriches us mentally, for there is always something to learn about the places we explored. There's always that sense of wonder when we experience new environment. It enriches us spiritually, for we get to experience the many forms of God's gifts to man whether it be in nature's wonders or seeing man's ingenuity. It enriches us emotionally, for as we adventure into the unknown we learn more of our inner self and capabilities.
Since I started this blog, I often get queries about travel tips for a Grand Circle Adventure not only from people living in US but also from travelers around the world.
PARKS AT THE GRAND CIRCLE
A lot of the queries outside of US come from Europeans which is not surprising. Each time we take an adventure in the Grand Circle, it seems there are more Europeans than Americans. The past years, I also start seeing more Japanese and other Asians exploring the Grand Circle.
What is The Grand Circle? It is a beautiful vast region in US Southwest that contains the largest concentration of National Parks for a given area. The region is filled with fascinating geologic shapes in bold splashes of colors.
top going clockwise: Grand Canyon National Park, Arches National Park, Zion National Park, Monument Valley and Petrified Forest National Park
For international visitors, the heart of their Grand Circle vacation usually is Las Vegas, being the major airport to fly in and out, and it is at the center of the exploration which forms a circle itinerary. Starting from Las Vegas, they either go counterclockwise or clockwise.
Some of the very common questions I received here are:
1. How long would it take us to explore the Grand Circle?
This depends on one's time. Generally, most people who inquires about the Grand Circle wanted to visit these places: Grand Canyon National Park, Zion National Park, Bryce Canyon National Park and Arches National Park. I believe to visit these places, maybe, a minimum of one week is required, and that may simply be more on sightseeing and less exploring/hiking. If hiking would be integrated, two weeks minimum, however, one week could be done but maybe just limit to a few parks. Actually, any park in the Grand Circle is worth exploring deeply for a week!
2. What is the must see?
I don't really have a must see. Maybe, I have lots of "must experience". Experiencing for me is different from simply seeing.
Must Experience: Hiking The Grand Canyon
Like, it's really different to experience Grand Canyon up close, as close as you could get when you experience hiking down. As you go down the canyon, you get to see the layers that tells Earth's history and scale the immense size of the canyon and its rich natural beauty. 98% of Grand Canyon visitors simply sees Grand Canyon from the rim, 2% explore Grand Canyon deeper. You do not really have to hike down completely to the river to get a full appreciation of Grand Canyon ( though it is so amazing to go down to the river ) if you lack time and want to explore other places.
3. Do we need reservations to enter Antelope Canyon?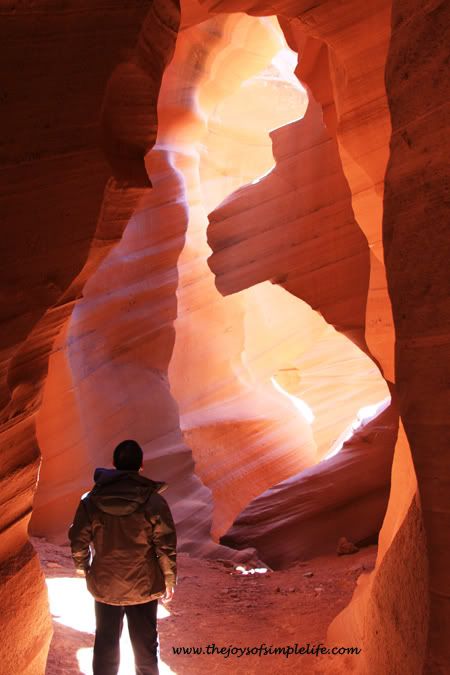 Exploring Lower Antelope Canyon
There is no need to make reservations at Lower Antelope Canyon, but there is a need for Upper Antelope Canyon. I have written a post comparing this two, which you can find by
clicking here
.
4. When is the best time to visit?
Summer can get very hot and too crowded. Winter would be too icy. My favorite time to visit is early spring and fall.
5. We are visiting the US and plans to explore Grand Canyon. We would like also to explore Antelope Canyon, Bryce Canyon, Zion and Arches. We would be flying in and out from Las Vegas. What do you think would be the best route?
Being a Circle of National Parks, there is really no best route. You can start counterclockwise from Las Vegas and hit Grand Canyon first, or you can start clockwise and do Zion first.
However, if one plans to hike the Grand Canyon from rim to river back to rim, I believe, that should be saved last since you may not be able to experience the full magnificence of other nature wonders when you are physically exhausted. If you hike from rim to river then back to rim, the ideal way to do it is several days backpacking, or you could do it in one day safely if you are physically fit.
Here is a glimpse of the National parks that form a circular itinerary where one can go counterclocwise ( Grand Canyon first) or clockwise ( Antelope Canyon or Zion first) from Las Vegas, the major airport closest to these circle of National Parks.
** you can click this map to enlarge and to see the list of National Parks in the itinerary
note: Canyonlands National Park is not listed above, because it is in the same area as Arches National Park, in Moab, Utah
A smaller circle can be formed with Las Vegas-Grand Canyon-Antelope-Zion-Bryce-Las Vegas (skips Petrified Forest, Mesa Verde, Arches and Canyonlands).

A medium circle is formed with Las Vegas-Grand Canyon-Antelope-Monument Valley-Arches and Canyonlands at Moab, Bryce, Zion-Lase Vegas (skips Petrified Forest and Mesa Verde ).

May I also add, though Antelope Canyon is always asked, but nearby Antelope Canyon at Page, Arizona are: Horseshoe Bend and Glen Canyon Dam National Recreation Area at Lake Powell, which, together with Antelope, are magnificent wonders in such a small area at Page.
from top left clockwise: Antelope Canyon, Horseshoe Bend, Rainbow Bride and Lake Powell @ Page, Arizona
( It's not just Antelope Canyon at Page, it's surrounded by stunning geological formations )
I have written about Page, Arizona previously, which you can
find here
.
Hope this post helps in giving some ideas for a Grand Circle Vacation. I have written individual posts for various places in the Grand Circle, which you can find in the National Parks tab in the above menu, or you can
click here
.