This is a Sponsored post written by me on behalf of PBM Products for SocialSpark. All opinions are 100% mine.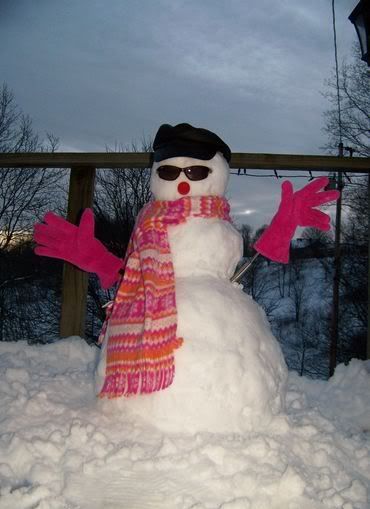 photo of snowman made by MJ in winter 2009, courtesy of MJ
"Stay home. Have fun. Build a snowman. Go sledding with the kids," American politician and former North Carolina governor, Mike Easley, once reportedly said. So a couple weekends ago, when
Old Man Winter
swept through our area, leaving everything under a thick blanket of snow, we took his advice (well, all except the sledding part; Teyla's a bit too young for that): We built a giant snowman out in our front yard!
"Come on over and help us make a snowman!," I excitedly said to one of my girl friends over the phone earlier that day. "Bring Cookie! (her little boy and Teyla's best buddy). She thanked me for inviting them, but said they were out of groceries and really had to go to Wal-Mart that day.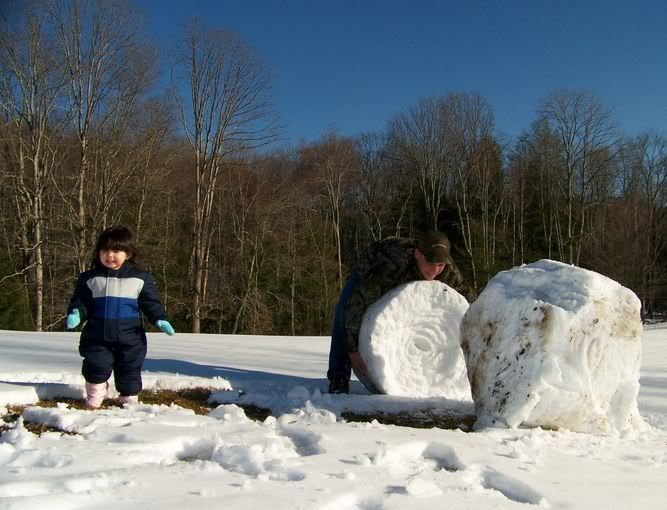 Photo of Rog struggling to lift the third snowball to make the snowman's head, courtesy of MJ
"Don't you guys have to go to the store, too?," she asked. She knew we made our weekly trip to "Wally World" on Sundays because we often ran into each other at the store on that day. "Aren't you all out of food? Or diapers for Teyla?"
I assured my friend our cupboards were well stocked. We had watched the
Weather Channel
days before thick snow hit our area, and we had made an early run to Wal-Mart for food and other supplies we might need in the event of a power outage. As for diapers? I told her, to her surprise, that we had quit buying them at stores in the area more than a year ago.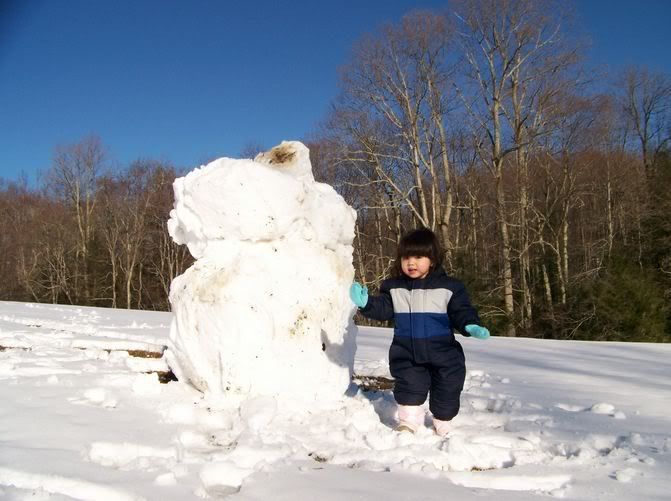 Photo of Teyla standing by the unfinished snowman, courtesy of MJ
"We
buy on diapers.com
now," I told her happily. "They bring the diapers right up to our doorstep!" I then shared with her the advantages of buying baby products on this awesome web site I discovered when Teyla was just a few months old:
- diapers.com has a "call us anytime" policy!
Before Teyla graduated to regular milk, she drank Bright Beginnings, a milk-based organic
infant formula
being sold on diapers.com. Anytime her formula supply would run low, all I would have to do was pick up the phone and call diapers.com's 1-800 number (that's
1-800-DIAPERS
). Today, I buy diapers off their web site, and no matter what time of the day I call - day or late at night - someone always answers the phone! Very convenient for times I run out of diapers and want to place an order immediately.
Bright Beginnings formula
and many other baby products can also be purchased online at
http://www.diapers.com
with just a few clicks of the mouse!
- diapers.com features FREE 1-2 day shipping
if you order more than $49 worth of
baby stuff
(which is easy to do when caring for a growing baby!). I usually avail of this offer by buying in bulk. I stock up on diapers and wipes. You can never have enough of those, and the free shipping is always a plus (considering the fact hardly anything is free anymore nowadays). Also, I love the gas money we save from not having to drive to town to buy diapers and other baby products. With gas prices inching closer and closer to the $4 mark, it is refreshing to know we can sit pretty at home or decide to spend the day building snowmen out in the field while diapers.com brings our products right up to the house!
- diapers.com has 2 great offers for new customers!
While browsing their web site the other day, I noticed two coupons near the top of the page - one offered 20 percent off diapers for three months. The other announced 10 percent off everything else. Discount offers such as these are worth taking note of in these hard economic times!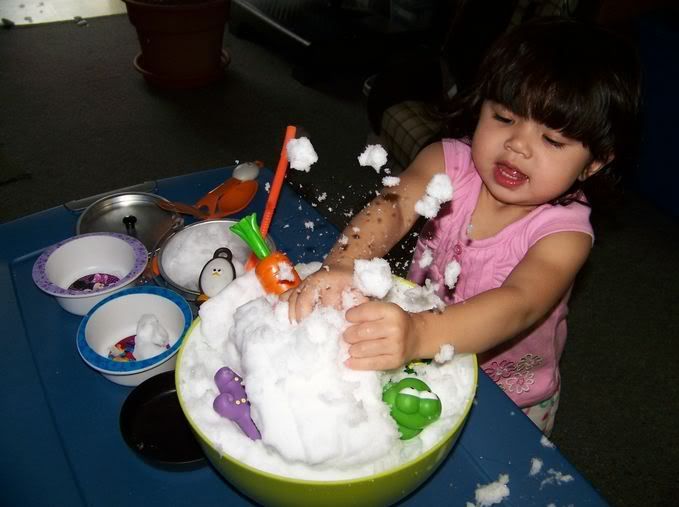 Photo of Teyla playing with a bowlful of snow indoors, courtesy of MJ
And for mommies such as me who visit
facebook.com
throughout the day as a form of stress relief from the rigors of mommyhood, Bright Beginnings now has a
Facebook
page at
http://www.facebook.com/pages/…
. Mommies from all walks of life come to this page to discuss the many benefits of Bright Beginnings
infant formulas
. I recently joined this page on FB and it has been a delight to meet other moms and to compare notes on various aspects of our children's development. If you are a mom, dad or child caregiver who would like to learn more about this organic
infant
formula
, I highly recommend you check out their Bright Beginnings on Facebook! I find it very informative and a great place to meet fellow parents/caregivers who hold their child's health in utmost importance.
Well, Rog, Teyla and I went on to build a giant of a snowman out in the yard that day. And what fun we had! We didn't have to worry about driving through all the ice and snow to get to town to buy diapers or wipes. The diapers.com delivery truck showed up at our doorstep the next day with several weeks supply of those products!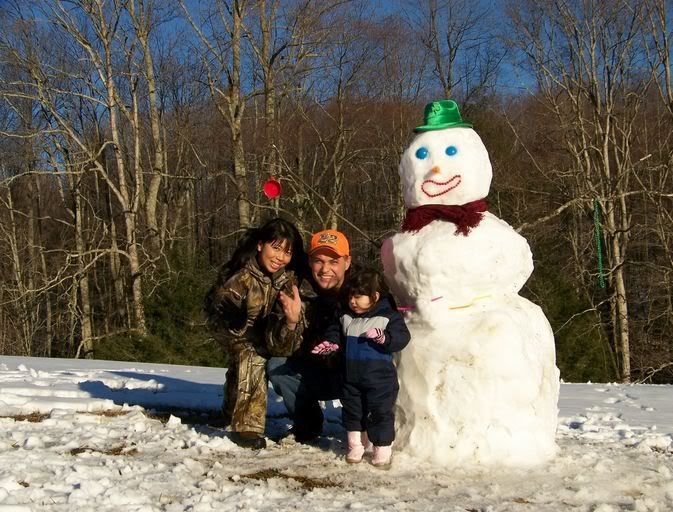 Photo of Rog, Teyla and I by our finished giant snowman, courtesy of MJ

Thank you, diapers.com, for a fun-filled family day out in the snow! For more information or to purchase Bright Beginnings organic infant formula, visit diapers.com. And don't forget to check out Bright Beginnings on Facebook

- By MJ